Where to Eat Indian in Penang
Penang is unique as a culinary melting pot of Chinese, Malay, Indian and others. Because of its proximity to India and pretty large Indian population, there's a good chance to find some great Indian food.
I've had some awesome Indian food in the Bay Area which, too, has a very large and cultured Indian population. I've also eaten Indian food in the Indian sections just outside of London (they don't even speak English there).
I would like to discover more, but here is where we've eaten:
Karaikudai
I don't know how I find this place. It was a blog or two which pointed me to it, and it was, in retrospect, a lark that we actually went there. I think it was because it had air-conditioning for the kids that I finally pulled the trigger.
Am I glad we did. The food here was outstanding. I've come back several times and haven't been disappointed.
The food had a distinct spiciness, as well as a freshness to it that made it flavorful. Of note are the following:
Fried bitter gourd chips
Chettanaidi mutton
Mango lassi
Chettanaid roti
I haven't strayed from these as far as I can remember. Why ruin a good thing? If I can fit in one more meal, I will and go here.
Not only does it have air-conditioning, but they take Visa.
Sri Ananda Bhavan
This is a pretty awesome place. The entrance shows some ready-made food which is fine. Not totally awesome, in my mind, but at a good selection and probably can't really go bad.
The teksi driver suggested that we have the porothi. I couldn't really understand him, but once I saw the menu, I knew what he was talking about. It didn't look that appetizing from the menu, but after we had it, it was fantastic.
It's basically like a roti with meat and egg or something.
The second thing we had was Robyn's suggestion, I believe. This wasn't from her blog, but from her directly. Cashew rawa thosai (lacy crisp griddled rice flour crepe studded with cashews and black peppercorns to eat with coconut sambar, daal, curry). Seemingly simple but a nice, rich set of flavors and texture.
The third thing was had was some kind of banana leaf set. We ordered it by accident, but it was great. A few different curries with rice.
I noticed one thing that last time I was there, which was their specials menu. Some of the items looked good, and perhaps is something we should try.
Hameediyah
Website Links
I found this place while walking along Campbell after another amazing dinner at Tek Sen.
The street was pretty much empty, but there was a little crowd in the restaurant at around 8PM.
The items recommended for us to try:
Special Bandung
Murtabak (apparently the best in Penang)
Nasi Briyani
Danging Randang (beef)
Kambing Bakar (grilled goat meat)
The food was, for the most part, fantastic! The Bandung which is rose milk syrup was delicious. I also got the mango lassi which, compared to Kapitan's, was flavorful and natural.
The star of the meal was, in fact, the Martabak. We had the ayam (chicken), and we all liked it, including the 2.5 year old!
The Briyani was okay…nothing incredible, but the chicken, when added to the curry which I guess came with it (?) was flavorful without being over-the-top spicy. I paired it with the sweet onions that came with my briyani, and together, the tender chicken, curry, and onions was delicious.
We also got the ayam kapitan curry which was good, a thinner curry than I am used to, but also flavorful. Difficult to eat: you get a full wing or leg soaked in the curry so I guess you have to be prepared to tear it apart with your hands.
The second time we went and tried the danging randang and had the same of everything else (bandung, mango lassi, murtabak, briyani, naan) – the beef was surprisingly flavorful!
I think we will probably head back again to try some more. The problem was figuring out what would be good to order.
The upstairs where we ate was not only clean (probably the cleanest and newest of any eating establishment in Penang) it was also air-conditioned, great for the kids.
Over all, this was one of the best Indian restaurants we've eaten at.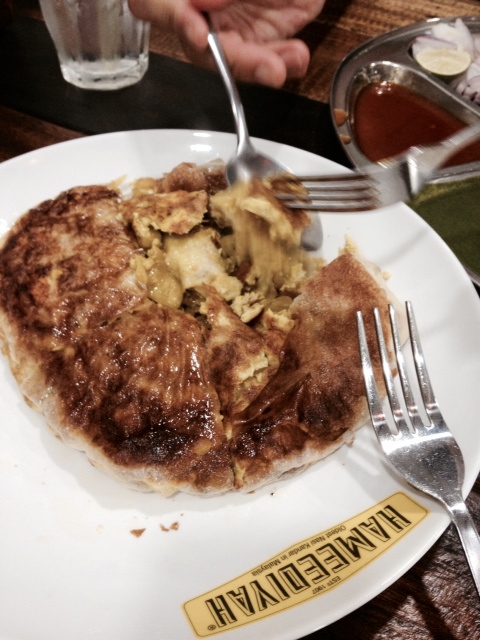 Kapitan = "Crapitan"
The last teksi driver suggested we go there. Every time I have passed by it, I had a feeling that it wouldn't be good.
Restaurants with their name in big bold letters and perhaps a little too much space make me think that they must have jumped the shark.
The food was terrible. From the mango lassi to the butter chicken and tandoori…all pretty much a bust. I've had better food in San Francisco. I'd probably take the butter chicken from Trader Joe's over this.
Sadness, and a big lesson for us.
I'd love to find some other places that are awesome. We have had some thosai grilled chapati just outside the main bustle of Little India, and those are awesome.